Current
This spring (2017) Chris begins his 4th summer with the Greenfield Tennis Club. For the indoor season, Chris is the Head Pro at the Kinsmen Sports Center where he provides private lessons. Chris also leads Tennis Alberta's Adult group classes at Kinsmen. Finally, Chris is the Head Coach for Little Aces (Tennis Alberta) which offers kids tennis, both indoor and outdoor, throughout Edmonton.
Chris simultaneously brings an intensity and lightness to his coaching. This comes from the realization that nothing is to be taken too seriously, while at the same time, greatness requires an absolute seriousness.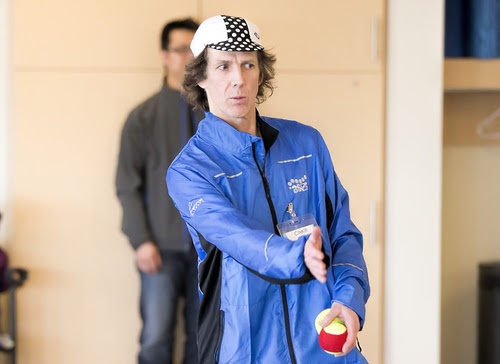 A Bit of History
Chris played Junior tennis in Northern Ontario, reaching #1 both at U14, U18 levels. Following this, Chris received a tennis scholarship to the U.S. (Michigan.) Chris did a little bit of coaching during these early years, but the focus was mostly on the playing. In 1992, Chris was Track MVP at McGill University, where the next year he completed his graduate work in Theoretical Computer Science.
A revelation occurred in 2013, where Chris realized his calling was to coach tennis. It is a perfect combination of tennis, teaching, thinking, creating, and the enjoyment of people, easy to see in retrospect, but hidden for so many years. He has been full-on all-in coaching since.